"Eye-opening, intriguing, once-in-a-lifetime experience, amazing, interesting, beyond words…" These are a few of the descriptors that students shared with me after they returned from Beijing last month. Rivermont students in Beijing? Yes, our school sent a delegation of thirteen upper school students to Knovva Academy's Model G20 Summit in China for nine days. Our student delegation comprised Harrison Brown, Chirag Gowda, Sarah Dobbs, Shannyn Volger, Anna Senjem, Nayana Gowda, Matthew Simmons
, Allison Swiger, Jozef Porubcin, Dwira Nandini, Lauren Schroeder, Leo Xu, and Aiden Roach. Dr. Bhaswati Gangopadhyay and I accompanied them. We joined 300 other students from 25 countries at a Sheraton Grand Hotel on Beijing's fourth ring to explore policies and issues surrounding smart, livable cities and global innovation. The days were long and intense, the curriculum was experiential and immersive, and expectations were high. As Patricia Lozada, Model G20 President put it, "we launched right into classes and workshops because we want our student delegates to understand the intensity and tenor of the life and work of diplomats." Summit speakers and cohort leaders, many of who were Harvard affiliated, worked elbow to elbow with the kids, sharing their professional stories and insights.
When students registered, each was assigned a country and a position in that delegation. Our students role-played head of states and ministers of trade or agriculture, they wrote and gave speeches as well as negotiated trade deals and policies. They competed for awards. In fact, two Rivermont students were honored: Shannyn Volger and Nayana Gowda were members of award-winning delegations. And after the week-long titanic effort, the summit ended with a banquet and a dance.
At either end of the trip, the students toured Beijing landmarks. On day two, the whole summit group visited the Forbidden City and enjoyed a dinner of local cuisine. For our last day, Rivermont students broke away from the larger group to visit the Great Wall at Mutianyu, meet the rugged, stray cat community and eat the best food of our trip at a local "hole in the wall" café.
With Rivermont Class of 2016 alum, Anastasia Eganova (in red), who is studying in Beijing.
There are several upcoming summits ahead in 2019: Mexico City, Boston, Cambridge, Sydney, and Dubai; each with a fitting theme and focus. More than half of our delegation received scholarships, and many of them want to attend another summit. Chirag declared within the first few days, "Hey, I'm really good at this! I might have found my life work." We'll be on the lookout for Ambassador Gowda in the years ahead.
Lynn Cimino-Hurt
Director of Residential Life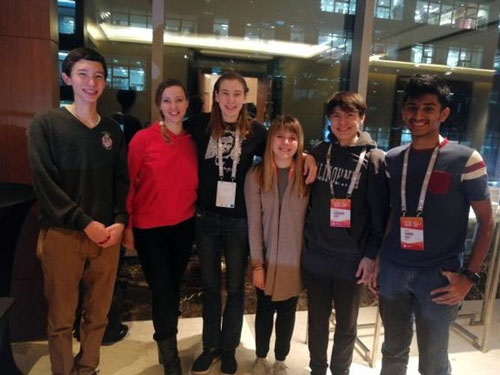 At the G20 Summit, our students met up with Rivermont Class of 2016 alum, Anastasia Eganova (in red), who is studying in Beijing.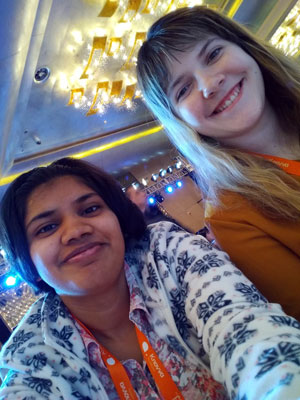 Dwira and Anna taking a selfie at the G20 Summit in Beijing.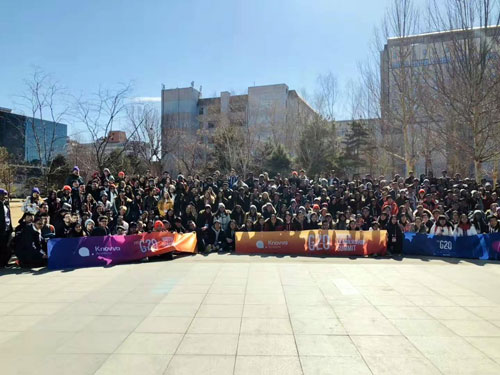 All G20 Summit participants pose for a group photo.
While in Beijing, students got to visit the Forbidden City and the Great Wall of China.