Opportunities for Involvement, Leadership, and Service
Students are encouraged to join and create clubs and groups that reflect their interests. For this reason, the mixture of clubs and activities at Rivermont changes annually. Below is an incomplete list of examples.
National Honor Society
The National Honor Society (NHS) and National Junior Honor Society (NJHS) are the nation's premier organizations established to recognize outstanding high school and middle level students. More than just an honor roll, NHS and NJHS serve to honor those students who have demonstrated excellence in the areas of scholarship, leadership, service, and character (and citizenship for NJHS). These characteristics have been associated with membership in the organizations since their beginnings in 1921 and 1929. (source: www.nhs.us)
Student Council
Student Council provides the main forum for discussing student concerns and ideas and is dedicated to developing leadership skills and enhancing student life. Student Council members interact with faculty, staff, and administrators to represent and serve the needs of the student body through coordinating student activities and service projects.
Rivermont has a Lower School Student Council, a Middle School Student Council, and an Upper School Student Council.
Coding Club
Coding Club is a program for Lower School students who wish to explore the world of computer programming. Coding beginners use "drag and drop" games that introduce the concept of creating lines of code to accomplish given tasks. Intermediate coders explore specific programming languages (such as HTML, Java, Python, and CSS) and learn to write strings of code to create programs and apps.
Robotics
Middle School Robotics is offered as a class during the school day. Middle School teams compete in the FIRST LEGO League (FLL) competition each year by building and programming an autonomous robot and completing a research project to solve a real-world problem.
A select group of Upper School students participates in the FIRST Tech Challenge (FTC) competition each year. These students are tasked with designing, building, and programming a robot to accomplish specific tasks on a 12'x12′ playing field. Students form teams each fall and practice 1-2 times per week until the competition begins in late winter. Teams have the opportunity to compete at the local, regional, and national levels.
Computer Club
Students with an interest above and beyond our progressive computer science curriculum join together to explore technology and put their knowledge to practical use. One example is Rivermont's Computer Optimization Day, a fundraiser hosted by the Computer Club that invites the community to bring their computers to campus for diagnosis, repair, and optimization by Computer Club members.
Yearbook
Upper School students have an opportunity to express their creativity by being part of the team that publishes our award-winning annual yearbook. The yearbook staff is charged with documenting a year in the life of Rivermont through photos, illustration, and writing. Students learn professional publication skills including editing, proofreading, digital imaging, and document layout.
World Cultures Club
Celebrating the diversity of the world's cultures, World Cultures Club students select a region or country to explore and celebrate each quarter. Recently students have celebrated cultural events and traditions from Mexico, Switzerland, China, Japan, France, Spain, Germany, Madagascar, Egypt, and Russia. Students also take an active role in community fundraising efforts to assist the World Relief Program and The Student Hunger Drive in the Quad Cities.
Theatre / Drama
In addition to the drama and theater arts curriculum that provides a foundation in both acting and production skills, students may choose to participate in the annual Upper School Play. From acting parts to scene, costume, and lighting design, there is truly something for everyone. Other performance opportunities throughout the year include fundraisers and events like the Middle and Upper School Variety Show and the National Honor Society Murder Mystery Dinner.
Partner Clubs
Rivermont also has a number of partner clubs within the community to provide students easy access to programs like chess classes or Brownie and Girl Scout troops. Information about these community programs is available on the student activities board in Becherer Hall.
More Examples of Student Interest Clubs
Anime Club
Dungeon & Dragons Club
Cooking Club
Cloud Club
Engineering Club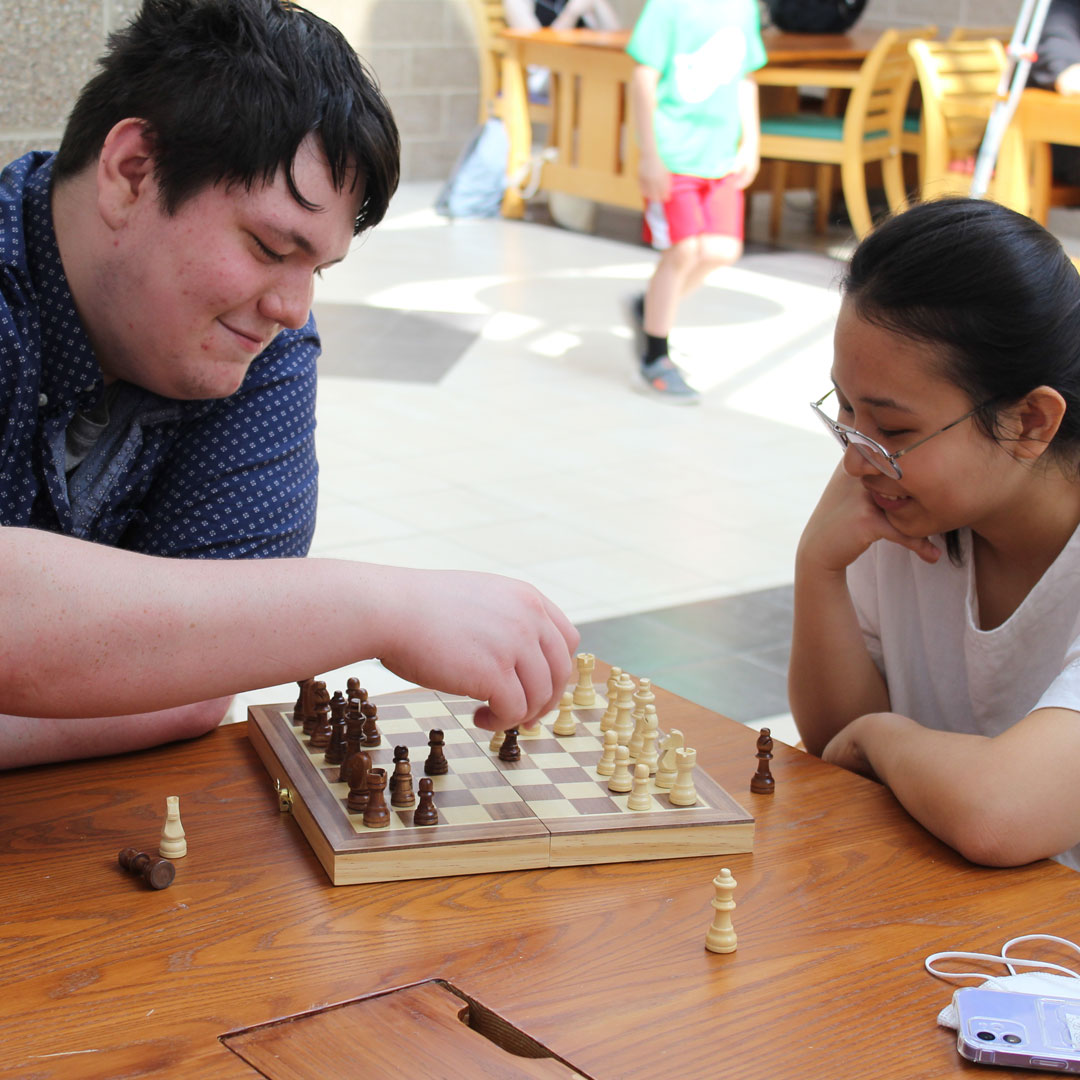 Student Events
Rivermont students are also strongly encouraged to participate in special events and competitions, both on and off campus, that provide opportunities for growth beyond the classroom.
National History Day Competition
State Science and Technology Fair of Iowa (SSTFI)
Math Bee and MathCounts
Junior Achievement BizTown and Finance Park
Iowa Children's Choice Award Reading Program
Public Radio International's "The World" Multimedia Contest
WQPT PBS Kids Writers Contest
Quad City Engineering and Science Council Mousetrap Car Competition
National Art Education Association Youth Art Month
Quad City Arts' Festival of Trees
Quad City Arts' High School Art Invitational
Rivermont International Week and International Food Festival
Rivermont Family Art Night and All School Art Show
Rivermont Lower School P.E. Night
Rivermont Lower School Family Math Night
Rivermont Cheerleading Clinic
Rivermont Middle and Upper School Variety Show