Contact the Board of Trustees
Joe Rives
President
Joe is a higher education consultant and a peer reviewer for the Higher Learning Commission. He has a B.A. in Psychology from Illinois Wesleyan University, a M.S. in psychology, and Ph.D. in Educational Administration and Foundations from Illinois State University.
Joe retired from public higher education after teaching at Heartland Community College (Bloomington/Normal, IL) and holding administrative positions at Illinois State University, Western Illinois University in Macomb and Moline, and the University of the Virgin Islands. He lives in Dorado, Puerto Rico, with his husband Scott and enjoys travel and the beach.
Brain Matlock
Vice President
Brian grew up in the Quad Cities and graduated from Davenport West High School. He attended the University of Northern Iowa, earning a B.S. in Geology and a minor in Chemistry.
After living in Des Moines for a few years after college, Brian accepted a position with Ruhl & Ruhl Insurance and returned to the Quad Cities. More than 25 years later, Brian is still with the organization, which is now part of HUB International, as a Senior Vice President.
Brian lives in Eldridge with his wife, Tracy, and their two sons, Eamon and Graham. Eamon and Graham attend Rivermont, having started in kindergarten.
Brian Matlock*
Vice President
Nicole Gleason
Secretary
Nicole is the Assistant City Administrator/Public Works Director for the City of Davenport, Iowa. She holds an undergraduate degree in Supply Management from Western Michigan University and an MBA from the University of Iowa. Prior to the city, she held several jobs in the private sector including John Deere and Denso Manufacturing.
She lives in Davenport with her husband Ryan and has two Rivermont middle schoolers, Lachlan (8th) and Carys (6th). She enjoys traveling and visiting family.
Nicole Gleason*
Secretary
Colin "Max" Roach
Headmaster
Max is a passionate and collaborative career educator entering his 23rd year in the Education industry. Mr. Roach completed his B.A. in Education from Westminster College and began teaching in Salt Lake City. Roach attended graduate classes at the University of Utah and is ABD for a M.A. in Teaching English as a Second Language. Seeking instead to enter administration, Mr. Roach started over and completed his M.Ed. in Educational Management and Innovation. Additionally, Mr. Roach was asked to join the All Kinds of Minds National Teaching Faculty and National Facilitator Advisory Board. Headmaster Roach also completed coursework at Vanderbilt University to become a Peabody Fellow of Education in Independent School Leadership.
Max's wife, Alethea, has supported Rivermont Collegiate as a registered nurse and girls' dorm parent. Their oldest son, Aidan, graduated from Rivermont in 2022. Their three school-aged sons, Porter (16), Charlie (14), and Henry (7), are enrolled at Rivermont. Max and his family are passionate outdoor adventurers, enjoying hiking, biking, snow sports, camping, etc. Max enjoys playing the ukulele, teaching classical Japanese martial arts, and traveling.
Mr. Roach has worked as a classroom teacher, learning specialist, Department Chair, and Dean of Teaching and Learning Division Director before heading a school. Mr. Roach is now entering his 8th year as a Head of School.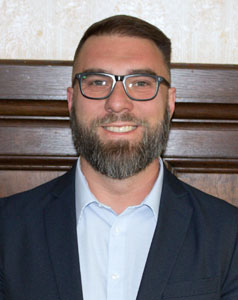 Noah Hinrichs
Trustee
Noah is a technology enthusiast that works as Chief Systems Architect on multiple projects in multiple industries. Noah started out building websites in high school and found that he really enjoyed software engineering, so he continued to grow his skills over the years. He now designs high-transaction, distributed software systems and manages multiple development teams working in cancer treatment, telecommunications, and data collection.
Noah enjoys traveling, especially to places he can scuba dive. He also enjoys home-brewing beer and doing BBQ whenever he can. Noah has two children attending Rivermont, both in lower school. The Hinrichs family looks forward to the many years ahead of us at Rivermont.
David Kempen
Trustee
David operates a real estate holding company that manages and develops commercial and residential real estate. Prior to his career in real estate, he was an engineer at Deere and Co. for 14 years. He has a B.S. degree in Industrial Engineering from the University of Wisconsin – Platteville and a M.S. degree in Computer Science from Rensselaer Polytechnic institute. He lives in Bettendorf, Iowa, with his wife Megan and three children. Two of his children attend Rivermont Collegiate.
Namrata Mallik, M.D.
Trustee
Dr. Namrata Mallik, MD is an internal medicine specialist in Moline, IL.
Namrata Mallik, M.D.*
Trustee
Liz Nino
Trustee
Liz Nino is the Executive Director of International Enrollment at Augustana College. As a result of her work, Augustana College was recognized as one of the top 15 Baccalaureate Colleges in the United States, enrolling international students. Liz is an international educator who has worked in K-12 independent schools and university admissions. She holds a Bachelor's degree in International Business and Spanish from St. Ambrose University and a Master's of Science in Education from Western Illinois University. Liz has spent most of her career promoting and developing international enrollment initiatives. Liz serves on several international education committees where she provides advice on diversity and inclusion efforts. Her career combines her passions for cultural understanding, languages, and international education.
Becky Paulsen
Trustee
Becky is the Vice President of the McDonough District Hospital Foundation in Macomb, IL. She has a B.A. in Business Administration from Illinois Wesleyan University.
Having been involved in the business community her entire career, Becky has owned her own businesses, led the Macomb Area Chamber of Commerce and Downtown Development Corporation, and spent much of her career as a fundraiser. At Western Illinois University, Becky was the Director of Development for the College of Business and Technology, then served as the Director of Corporate and Community Engagement and as a Co-Chair of the President's Executive Institute.
Becky lives in Macomb with her husband, Ron, and Charley, their adorable dog. With 5 children and 7 grandchildren, she enjoys family time!
Gregory Schermer
Trustee
Gregory Schermer rejoined the Board after a long hiatus to assist Rivermont in a new fundraising initiative to refresh the Endowment for a sustainable future.
Gregory is a past President of Rivermont and a previous board member, where he served for almost 10 years.
Gregory retired as the VP of Strategy at Lee Enterprises 4 years ago. He served as VP of Digital for many years. Gregory currently serves as a Board Member of Lee Enterprises and is a member of the Nominations and Audit Committees.
Gregory had four children who attended Rivermont from K through 8.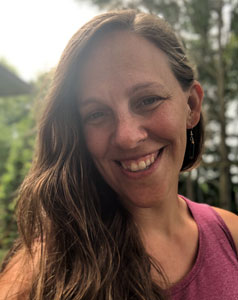 Stephanie Thoms
Trustee
Stephanie is a full-time labor and delivery nurse at a local hospital, along with being a full-time parent, community advocate, and student. Stephanie has a nursing degree from Blackhawk College and a bachelor's degree from Iowa State University in Child Development. She has worked in the nonprofit sector for 16 years as a community doula, social worker, and community educator, fundraising, grant writing, and advocacy.
Stephanie and her family reside in Rock Island, IL. She has three children that attend Rivermont Collegiate, Helen (11) – 6th grade, Julia (8), and Vivian (8) – 3rd grade.
Jim Zmuda
Trustee
Jim Zmuda is an attorney at Califf & Harper P.C. in Moline, IL.
* Current parent † Parent of graduate
Contact the Board of Trustees
The Rivermont Collegiate Board of Trustees oversees the school, sets policies and procedures, approves the strategic plan, supervises the head of school, and engages in fundraising. The Board meets as a Committee of the Whole quarterly and has committees on finance, development (grants and annual funds), marketing, and public relations, in addition to ad hoc committees when needed. To meet and exceed the National Association of Independent Schools Best Practices in Governance, the Board provides quarterly meeting summaries to the Rivermont community and the public to ensure we communicate our decisions widely.