International Students
Welcome to our International Student admission page! Rivermont Collegiate is a co-educational, independent school offering an exclusively college preparatory program. Its eight and one-half acre campus is located on a bluff overlooking the Mississippi River in Bettendorf, Iowa. Founded in 1884, Rivermont is the only pre-kindergarten through 12th Grade college preparatory school in the Quad Cities region of the Midwestern United States.
Our high school focuses on preparing students with the critical thinking, problem-solving, and writing skills necessary for success in college and the global job market. The Upper School curriculum provides an increasing degree of choice and challenge as students progress. A broad base of knowledge in English, history, science, math, foreign language, and the arts is combined with a wide variety of honors, independent study, and Advanced Placement (AP) courses.
#1 Ranked School on the Iowa AP Index
100% Admission to 'Best-Fit' 4-Year Colleges & Universities
Rivermont Collegiate Residence Halls
Rivermont Collegiate has two residence halls on its campus. The girls' dorms are on the upper floors of the Carriage House. The building has 17 beds, two dorm parent apartments, as well as a student commons area, pottery studio, and art classroom. The boys' dorms are on the upper floors of the STEAM (Science, Technology, Engineering, Arts, and Mathematics) center. There are 24 beds and two more dorm parent apartments in the 30,000 plus square foot facility. It also has a student commons, laundry room, and meeting space as well as classrooms equipped with state-of-the-art technology.
Just steps from our main campus, boarding students enjoy free time socializing with friends and faculty. Weekends include shopping, movie, and restaurant trips. Examples include a day trip to Chicago, boating on the Mississippi River, museum visits, and much more.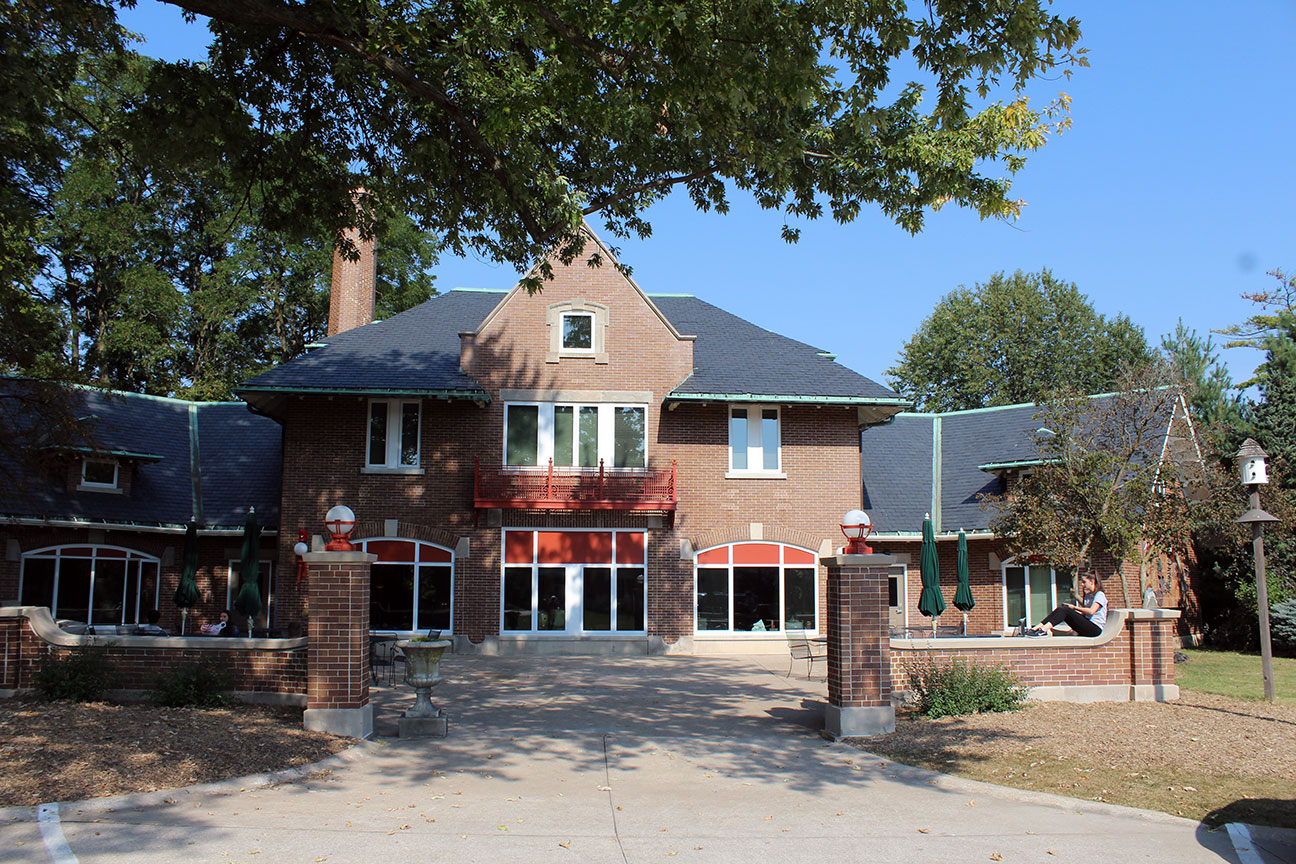 Carriage House Residence Hall
The STEAM Center was finished in August of 2019.
Top: Bettendorf Mansion and Becherer Hall
Bottom: Dorm room in the Carriage House Residence Hall
The student commons area on the second floor of the STEAM center.
Living in the Quad Cities
Rivermont Collegiate is 20 minutes from the Quad Cities International Airport and only 3 hours from Chicago
The School overlooks the Mississippi River (the largest river in the United States)
The Quad Cities region is one of the safest areas to live in all of the United States
Entertainment in the Quad Cities includes shopping centers, movie theaters, professional sports, museums, farmers' markets, and much more!
Left to right: John Deere Pavilion in Moline, Illinois, Skybridge in Davenport, Iowa, and Modern Woodmen Park in Davenport, Iowa
Photos courtesy Quad Cities Chamber of Commerce