Boarding Program
Choosing a school is one of the most important decisions you will make for your student. As a parent, you have the opportunity to choose a school with a mission that is right for your family, resulting in an education that prepares your student for success in college and beyond. We understand the importance of asking the right questions and learning as much as possible before making a decision. We encourage you to visit our campus and experience for yourself why being a member of the Rivermont Family is such a unique and rewarding experience.
Below are just a few reasons to consider a Rivermont Collegiate education:
Ranked #1 Private High School in Iowa and #1 High School for STEM in Iowa by Niche
Top-ranked College Preparatory School in Iowa for every year of the Iowa AP Index (2005-2017)
Graduated 12 National Merit Scholars, seven Finalists, three Semi-Finalists, and 20 National Merit Commended students over thirty-seven graduating classes
100% of graduates are accepted to 4-year colleges and universities
On average, Rivermont graduates are admitted to 6 colleges & universities and receive over $178,900 in merit-based scholarship offers each
90% of 2009-2013 graduates have graduated or will graduate college in 4 years (national average to receive bachelor's in 4 years: 38.6%*)
The Mansion and Becherer Hall
The Joseph W. Bettendorf Mansion, right, was built for Joseph and Elizabeth (Ohl) Bettendorf. Joseph, head of the Bettendorf Company, built his English manor style home on a bluff overlooking the Mississippi River in 1915. The school purchased the Mansion and Carriage House in 1973. Today, the Mansion houses administration as well as Middle and Upper School classrooms. Becherer Hall, left, was built in 2001 and houses our Early and Lower School classrooms, the school's cafeteria, auditorium, and gymnasium. Read more about the school's history.
Tuition and Fees
7-Day Boarding Students – Tuition, Room, and Board: $42,000 (Includes Tuition Deposit)
5-Day Boarding Students – Tuition, Room, and Board: $34,500 (Includes Tuition Deposit)
Tuition Assistance
Rivermont Collegiate uses FACTS Management to help determine what a family can afford towards the annual Rivermont tuition.
Carriage House Residence Hall
Rivermont Collegiate currently has one residence hall, called the "Carriage House." The building has 17 student beds, 9 of which are single rooms, a student lounge, art classroom, and 2 faculty apartments. Just steps from our main campus, boarding students enjoy free time in the lounge or on the patio, socializing with friends and faculty. Weekends include shopping, movie, and restaurant trips, as well as a "large" trip once a month. Examples include a day trip to Chicago, boating on the Mississippi River, museum visits, and much more.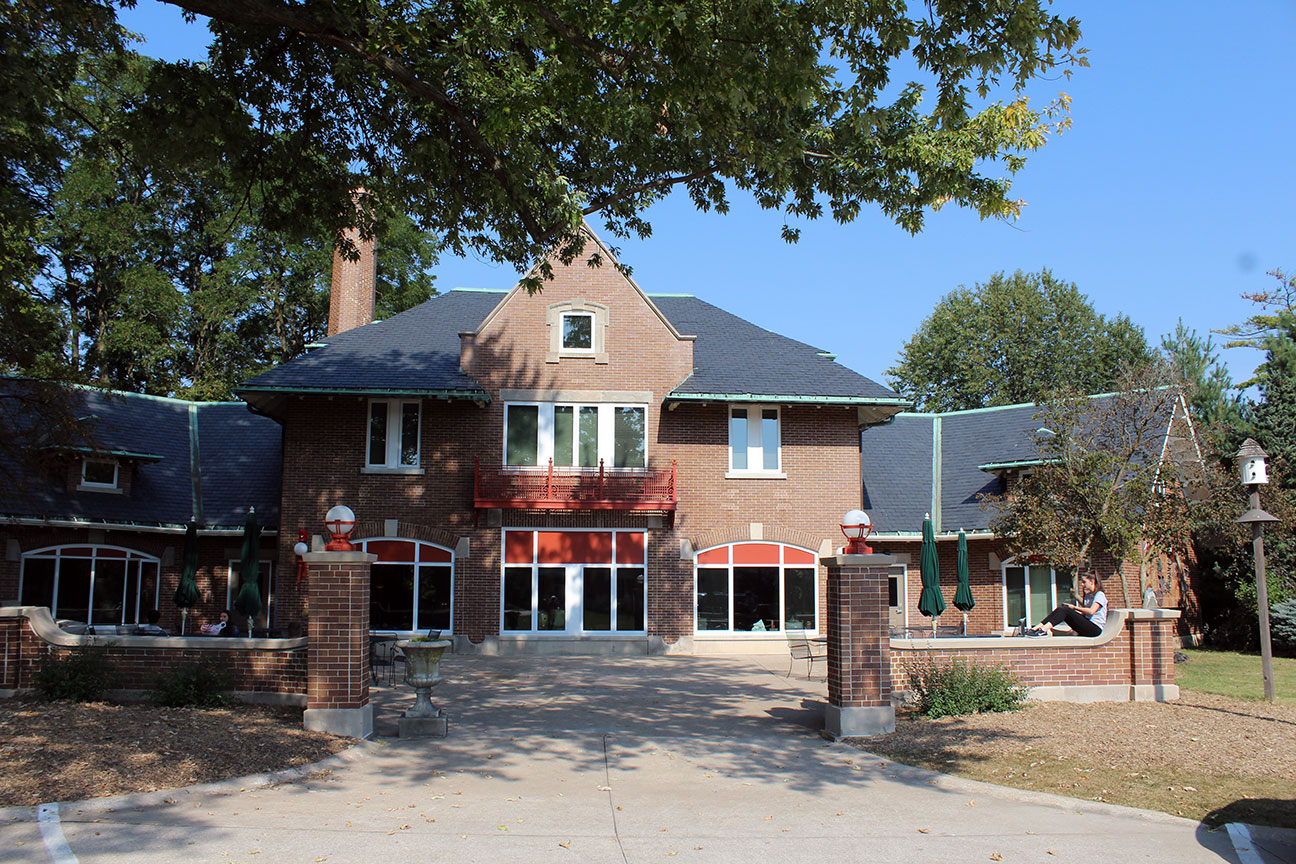 The Carriage House Residence Hall, top, was renovated in 2017 and houses up to 17 students in single and double dorm rooms (pictured below). There are two dorm parent apartments, a student commons, as well as a dedicated pottery studio and art room.  Besides the commons, the large courtyard is a great place to study, read, and chat with friends.
Living in the Quad Cities
The Quad Cities straddles the Mississippi River (the largest river in the United States) and includes Bettendorf and Davenport in the Iowa Quad Cities, and Moline and Rock Island on the Illinois side.
Rivermont Collegiate is 20 minutes from the Quad Cities International Airport and only 3 hours from Chicago
The School sits on a bluff overlooking the Mississippi River
The Quad Cities region is one of the safest areas to live in all of the United States
Entertainment in the Quad Cities includes shopping centers, movie theaters, professional sports, museums, farmers' markets, and much more!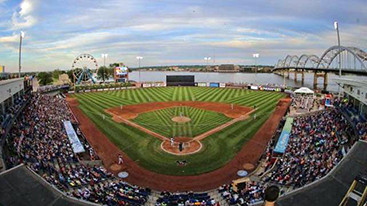 Modern Woodmen Park in Davenport, Iowa
Photo Courtesy Quad Cities Chamber of Commerce